Report an Absence
Families, please report absences through our 24-hour attendance line:


720-561-8702
New! updated attendance policy
Please click HERE for our updated policy. (English)

Haga clic AQUÍ para ver nuestra política de asistencia. (Español)
---
REPORTING ABSENCES THROUGH INFINITE CAMPUS
Parents and guardians can log in to their Infinite Campus Parent Portal site to notify School staff of an expected student absence. This will ensure the authenticity of reported absences, while also providing families with improved communication when a student misses class.
See below for a step-by-step guide that can help you through the process.
LOG INTO INFINITE CAMPUS
OVERVIEW
The BVSD Report Absence Form allows parents and guardians to securely report a student's absence from school for a single day. Users submitting an absence report will receive a confirmation email at the contact email address listed in Infinite Campus. The form can be toggled between English and Spanish. Confirmation emails will be sent in English or Spanish depending on the preferred language of the user listed in Infinite Campus.
Students are not able to self-report absences from Campus Student.
HOW TO USE THE BVSD EXCUSED ABSENCE FORM
Log in to the Campus Parent website from any internet-connected computer, tablet, or mobile device with your Infinite Campus username and password. Or login to the Parent Portal app.​
In left-hand menu, click More (If menu not visible, click Hamburger icon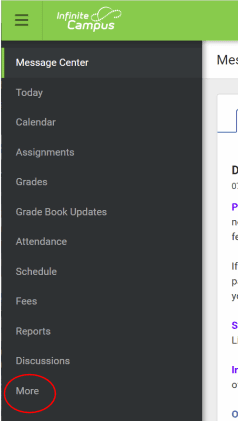 In "Quick Links" section, click "Report Absence"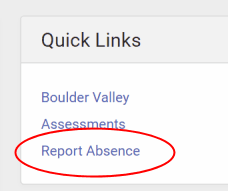 ---
Period Absence Reference:
Period 2: AM Block, Seminar on Wednesday 8:45-10:45
Period 3: Advisory Check-in on Tues & Fri 10:55-11:05
Periods 3, 4: Advisory/Community Gathering on Wed 10:55-11:30
Periods 3, 4, 5: Advisory on Mon & Thurs 10:55-12:05
Periods 4, 5: Seminar Tues & Fri 11:05-12:05
Periods 8, 9, 10: PM Block 12:55-2:55
Period 8: PM 1 12:55-1:50
Period 9, 10: PM2 2:00-2:55
Periods 7, 8, 9: Wednesday Workshop 12:30-2:30
Period 11: PM 3 3:05-4:05
---
Dear Boulder Valley School District Families and Staff,
As our partners in public health recently announced, both Boulder and Broomfield Counties have moved into Centers for Disease Control's High COVID Community Level. The community level is based upon the number of cases, testing positivity, vaccination rates, and hospitalizations and is intended to help individuals and communities make informed decisions about the level of protections they utilize.
This increase in COVID comes as our community continues to experience an increase in respiratory illnesses, affecting school, work and the ability of our hospitals to manage patient needs.
We would like to remind our families and staff of the actions we can all take to reduce the spread of these illnesses and keep our schools and community as healthy as possible.
Please stay home if sick

At least 24 hrs after your child/you have had a fever, vomiting or diarrhea (resolved for 24 hrs without medications)

If you have multiple symptoms such as coughing, congestion, aches, sore throat - stay home until they start to improve

Follow the school guidelines for returning - students AND staff

Get tested - testing is available for COVID, Flu and RSV. Follow recommendations for isolation, if you have a confirmed case of COVID, Flu or RSV.

Practice good hand and respiratory hygiene

Cover your cough

Dispose of tissues immediately

Wash or sanitize your hands

Talk to your healthcare provider about vaccines for Flu and COVID-19

Consider wearing a mask indoors for added protection
CLICK HERE for additional recommendations from the CDC for individuals living and working in communities with high community levels of COVID.
BVSD will continue to have masks available for students and staff if they wish to wear them, we also have air filtration systems operating and more frequent cleaning of high touch surfaces.
As always, the health and safety of our students, staff and community are our top priority.

Sincerely,
BVSD Health Services